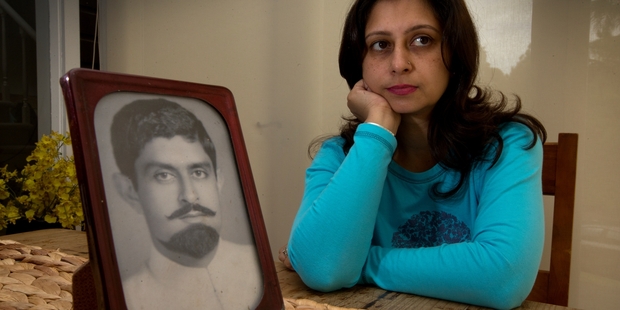 MH370 wasn't the first time Malaysia experienced an aviation disaster with sinister undertones.
On December 4th 1977, Flight MH653 was violently hijacked during a routine domestic flight from Penang to Kuala Lumpur. It eventually crashed into a mangrove swamp in Johor, with the loss of all 100 souls on board.
The perpetrators and their motives have never been identified.
NZ Herald talks to Devika Ganjoor Erickson, the daughter of the slain pilot, Captain G. K. Ganjoor. She now lives in Auckland, and her family's experience at the hands of inept bureaucrats is a harrowing one:
Her father's death left her mother a widow at 30 with children aged 5 and 18 months and a dramatically changed life. It occurred the day after their wedding anniversary and the day after Ganjoor completed 21 years of flying.

Erickson, who was 5, has memory "flashes": with her dad at a Disney On Ice show, a fatherly cuddle, her mother at home inconsolable while surrounded by people. She's been told that she repeatedly asked where her father was.

He was a voracious reader, a keen cook, who loved squash, tennis and horseriding, an amateur actor and poet and a university boxer.

"We lost out on those rich experiences, as well as missing a father figure.

"It was incredibly hard for my mother."

Ganjoor previously flew for Indian Airlines and the family had moved from Lucknow, in India's northeast, to Kuala Lumpur four years earlier for her father's job and were isolated from family.

Erickson feels the airline should have done more to help her mother. She said that two days after the crash, while in shock and without legal advice or family support, her mother signed a document at the request of the airline that waived her legal rights. "She was shell-shocked. She would have signed anything."

The airline gave about a year's salary as full and final compensation from which a fifth was deducted in death duties. The remainder was divided with Ganjoor's wife and two children from a previous marriage.

The family's privileged lifestyle – they had two maids – changed overnight.

"Mum was a housewife, a very spoilt housewife, and suddenly to go from that to literally wondering how she would feed her kids, was very hard. It was a hand-to-mouth existence."

After pleading with the airline for a job, her mother was given a low-paid clerical role and told she could never be promoted to a higher-paying job because she was not a Malaysian citizen. Her mother did that job until retiring at 55 and returning to India where she lives in a small apartment.

Her mother's requests to the airline for help to pay for costly English language schooling in Malaysia were declined, said Erickson, because her father was an expatriate. Consequently she and her brother were sent to India for schooling.

Her mother lost the free travel benefit that came as a pilot's spouse and though her job made her eligible for flight concessions there was never money for family holidays. A trip to McDonald's was a treat, Erickson said. "I felt we were being punished for something that wasn't our fault."

"The airline just didn't have any heart to deal with it properly. It has not been done right by my Mum. She should not have gone through what she's gone through; for a young widow to be struggling so much."